You are here

Risk Management
Risk Management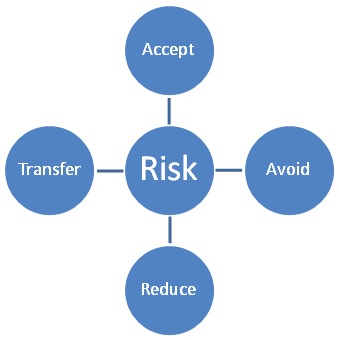 What keeps you up at night?
Chances are, the things that keep you up at night are things beyond your control. They are things that threaten your well being in some way. These are risks.
One definition of risk is simply "the possibility of loss or injury".
There are four ways to deal with risk:
Accept it – We accept many risks in life. Life itself is risky business, since most of it is beyond our direct control.
Avoid it – We learn that it is easier to avoid some situations rather than 'tempt fate'. Stay out of the dark alley at night. Don't drink and drive. Don't talk to strangers. These are all ways we avoid risk.
Reduce it – We may alter our diet to reduce the chances of certain diseases. Driving defensively can reduce our risk of accidents.
Transfer it – We transfer large risks whenever possible. We put our money in the bank. We buy car insurance., fire insurance, and life insurance. Each of these is a way to transfer the financial consequences to another institution.
Managing Risk
Our goal is to help you decide which risks you can accept, what you can avoid or reduce to an acceptable level and what makes sense to transfer. Throughout this process, we will help determine in which areas you are overinsured or underinsured.
Part of managing risk is understanding it. When it comes to investment risk, we start with online quantitative risk profile that yields a risk tolerance score of 1 to 99 (1 being low risk tolerance and 99 being very aggressive). We then use the same tool to measure the embedded risk in any portfolio. That gives us the ability to tailor your investment portfolio risk profile to match your personal risk profile. To get your free personalized risk profile, click on the button below.